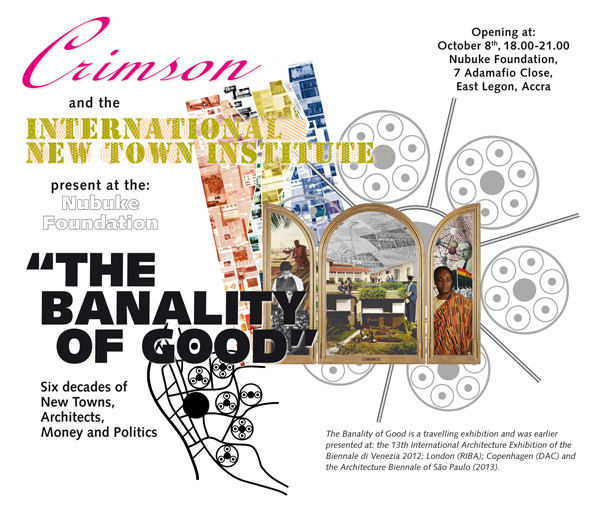 You are cordially invited to the opening of the exhibition The Banality of Good. Six decades of New Towns, Architects, Money and Politics, on October 8th, at 6 PM at the Nubuke Foundation in Accra.
The city of Tema is one of six cities, which are portrayed in the exhibition The Banality of Good. Six decades of New Towns, Architects, Money and Politics, which was made by Crimson Architectural Historians and the International New Town Institute (INTI). It was previously exhibited in Venice, São Paulo, Copenhagen and London.
The exhibition is travelling to the cities which are portrayed, to discuss the values and ideals of urban planning and the way in which architects and planners can contribute to the quality and inclusivity of modern cities. In Ghana this is a relevant topic because of the fast rate of urbanization and the privatization of urban planning. What is a Good City? And how can we design and build it?
The opening is part of a three-day program of events:
- October 8th: Thinking the Good City (a symposium) and opening of the exhibition The Banality of Good: 6pm - 9pm
The symposium will address the main issues raised by the exhibition: the relation between democracy and urban planning, the role of architects in creating inclusivity, and the agenda for Ghanaian urbanization. The focus will be very concrete, looking at Tema as part of the Accra region.
program:
6.00 Nubuke Foundation open, music
7.00 Opening words by His Excellency the Ambassador of the Netherlands to Ghana, Mr. Hans Docter
7.10 Introduction by Dr. Michelle Provoost (Crimson, INTI)
7.30 Lecture by Prof. Dr. Wouter Vanstiphout (Crimson, TU Delft)
8.00 Panel discussion with:

Nat Amartefeio (historian, former mayor)
D.K. Osseo-Asaie (architect, Accra)
Prof. Sam Afram (KNUST)
Stella Arthiabah (architect, Ghana Institute of Architects)

8.45 Drinks and music
- October 9th: Designing the Good City (a design charette, personal invitation only)
A mixed Ghanaian/Dutch team of designers and planners will use the instruments of research, discussion and design to contribute to the redefinition of what the Good City should be in the case of Accra and Tema.
- October 10th: Imagining the Good City (a workshop for children age 10-13): 10 am – 1 pm
In this workshop children from Tema aged 10 to 13 will discover and design their city and their homes according to their own imagination and needs. They will explore their own world, focusing on the route from their house to school, mapping it first, and then inventing and designing improvements, in a quest for their own place of happiness and paradise.