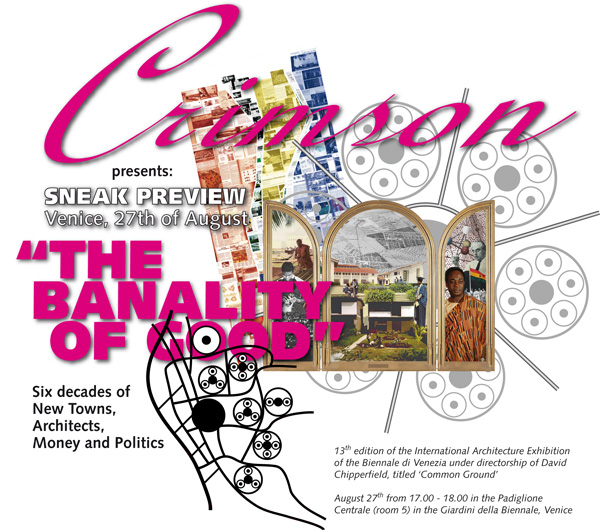 Crimson Architectural Historians has been invited to present its research work at the 13th edition of the International Architecture Exhibition of the Biennale di Venezia under directorship of David Chipperfield, titled Common Ground.
The exhibition curated by Crimson is titled The Banality of Good: Six decades of New Towns, Architects, Money and Politics.
It asks: can the design of New Towns again be a subject of collective pride to architects and not of professional shame like it seems to be now? 'Banality' is unavoidable when building for the life of millions. But instead of the banality of the icon, the banality of wealth or the banality of fear, like we see in so many new cities presently, can it be the Banality of Good?
The exhibition presents a series of six exemplary cities that were planned in the last six decades. The ideals of these cities will be showcased through large allegories on six wooden triptychs that represent both the dreams and the realities of the towns. There are steel and aluminium diagrams that demonstrate the shared DNA of the towns and finally there is an Argument Wall, on which Crimson has pinned her convictions about what matters in New Town Planning.
You are invited to join us on the festive preview of the exhibition The Banality of Good on August 27th from 17.00 - 18.00 in the Padiglione Centrale (room 5) in the Giardini della Biennale, Venice.
Programme:
- Word of welcome by the Consul General of the Kingdom of the Netherlands in Milan, Johan S. Kramer
- Introduction by Dr. Michelle Provoost (Crimson Architectural Historians, International New Town Institute)
- Introduction by Dr. Wouter Vanstiphout (Crimson Architectural Historians, Technical University of Delft)
- A musical performance by the singer, guitarist and author Mark Ritsema (Spasmodique, The Nightporter), in which he will play 'Brasilia', composed especially for this exhibition
- Tour of the exhibition.
- Appetizers and drinks.
Please rsvp before August 20th to crimson@crimsonweb.org
[modula id="2052"]